TATI Student Art Therapy Centre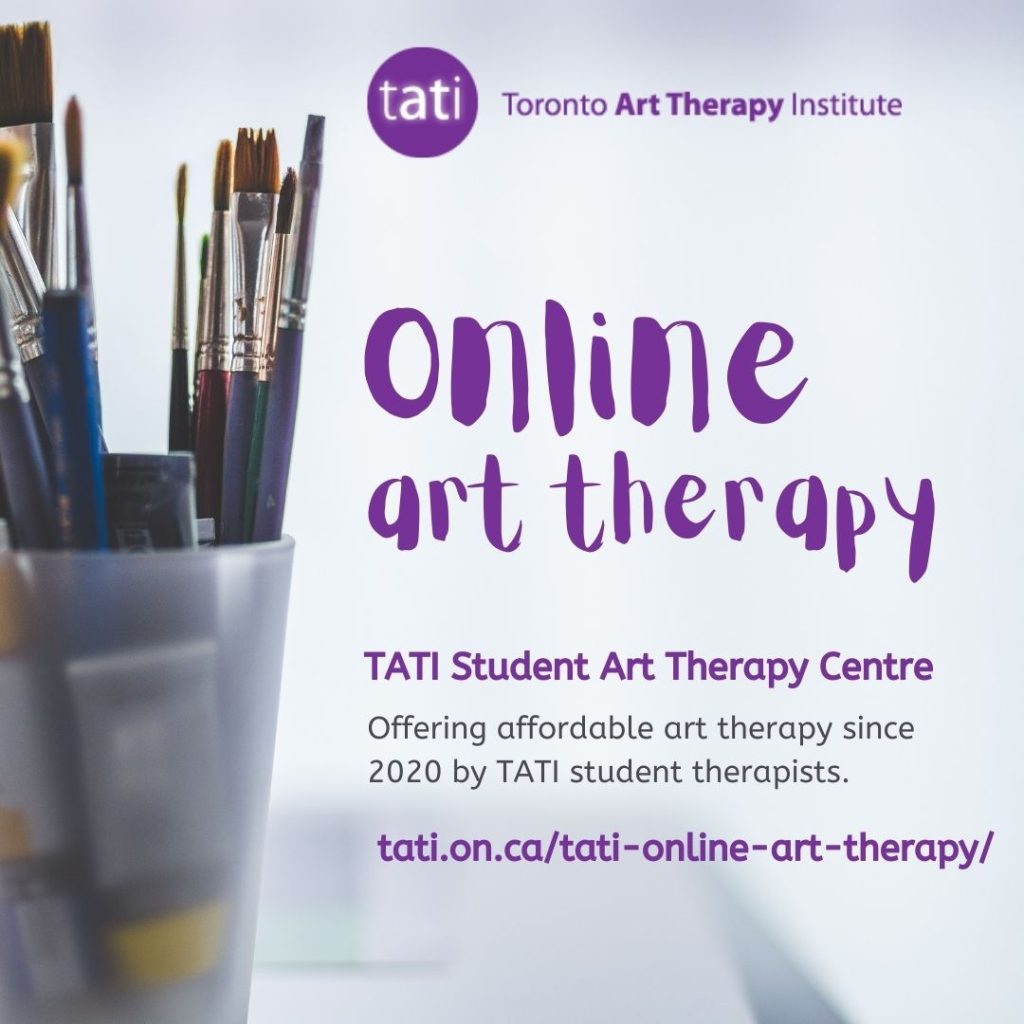 About the Centre
The TATI Student Art Therapy Centre (formerly TATI Online Clinic) opened in September 2020 to offer affordable and accessible virtual mental health services to the community, while expanding practicum opportunities for art therapy students, during the challenging and uncertain time of the COVID pandemic.
Who We Are
Services at the Center are provided by students at the Institute, who received training and supervision by experienced art therapists registered with the Canadian Art Therapy Association and the College of Registered Psychotherapists of Ontario or the Ontario College of Social Workers and Social Service Workers.
Due to funding limitations, our individual art therapy services unfortunately closed in June 2023. However, the Centre continues to offer seasonal online art hive sessions and virtual art therapy groups facilitated by TATI students carrying out their thesis research. We also occasionally offer affordable professional development workshops particularly for new art therapy graduates and students.
Past Art Therapy Groups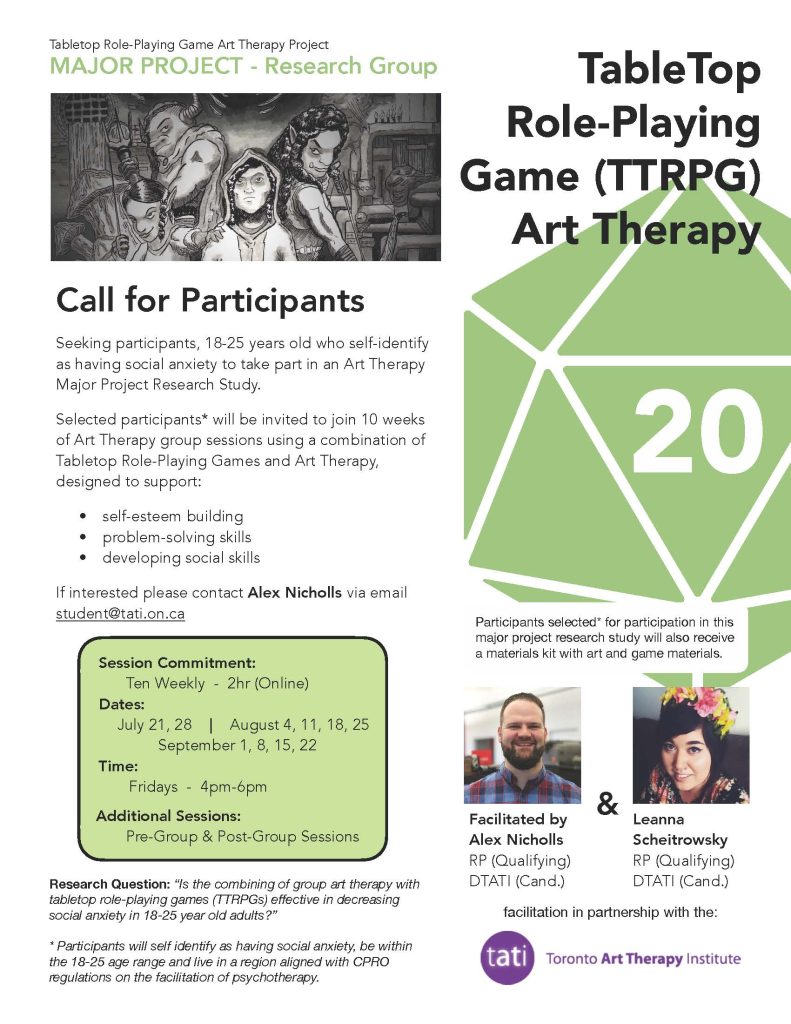 TableTop Role-Playing Game (TTRPG) Virtual Art Therapy Group
TATI Students Alex Nicolls and Leanna Scheitrowsky are offering an online art therapy group for young people exploring social anxiety through table-top role playing game.
The group invites participants who are:
18-25 years old
self-identify as having social anxiety
Dates
10 weekly sessions, July 21 – September 22, Fridays 4-6 pm ET
This art therapy group is part of Alex Nicolls' major project research, and has been approved by the TATI research ethics committee (June 2023).
If interested please contact student@tati.on.ca, and Alex will follow up to send more information and schedule a pre-group introductory meeting.
What We Do
What is art therapy?
Art therapy combines the creative process and psychotherapy. The art therapist facilitates a supportive, accepting space for the participant to creatively express themselves, gain self-awareness, connect with their own knowledges, and expand their life skills. Using various art forms and mediums as part of this creative therapeutic process, thoughts and feelings can be expressed that would otherwise be difficult to articulate. (Source: Canadian Art Therapy Association)
What does art therapy look like at the Centre?
We currently offer seasonal art hive sessions and group art therapy facilitated online using Zoom with Personal Health Information Annex enabled. Group cycles are typically 8 to 12 sessions in length and focus on creative self-expressions, processing emotions, and skills-building on present-awareness, self-care, and/or problem-solving.
We can work with individuals who:
are 16 years of age or older
are residing within Canada (except Quebec)
are looking to explore and work through non-urgent emotional concerns through arts-making
have access to stable internet with webcam and microphone, and private space for art therapy sessions
We recognize that many emotional challenges may stem from experiences of violence, trauma, or systemic oppression and marginalization. Due to the short-term format of the art therapy sessions we offer, student art therapists would not be able to support individuals in unpacking or delving into the histories of trauma, but can support individuals in dealing with the effects of these experiences in the here and now.
What art materials do I need for art therapy sessions?
Participants don't need special art supplies to take part in art therapy sessions. Student art therapists will work creatively with participants to use or upcycle materials that they have at home, as well as make suggestions for exploring other materials if the participants are interested.
TATI Online Art Hive
For those interested in community arts-making in an open group, we offer a virtual art hive on a seasonal basis, organized by TATI student co-facilitators. To find out more about the art hive and register, please visit the TATI Online Art Hive page.
Support the Centre
We are committed to be part of the movement that aims to make mental health services affordable and accessible. Our therapeutic arts sessions are free of charge or by donation. For those who wish to support the ongoing work of the TATI Student Art Therapy Centre, please consider donating through this link.
Current Supervision Team
Jacquie Compton (RCAT, RP, DTATI)
Sharlene Friedman (RCAT, RP, DTATI)
April Penny (RCAT, RP, DTATI)
Suzanne Thomson (RCAT, RP, DTATI)
Patricia Ki (RCAT, RSW, DTATI)
Administrator: Taylor Bourassa (RP, DTATI)
Acknowledgement
We thank the Donner Canadian Foundation for their generous support of funding the TATI Student Art Therapy Centre for 2022-2023.