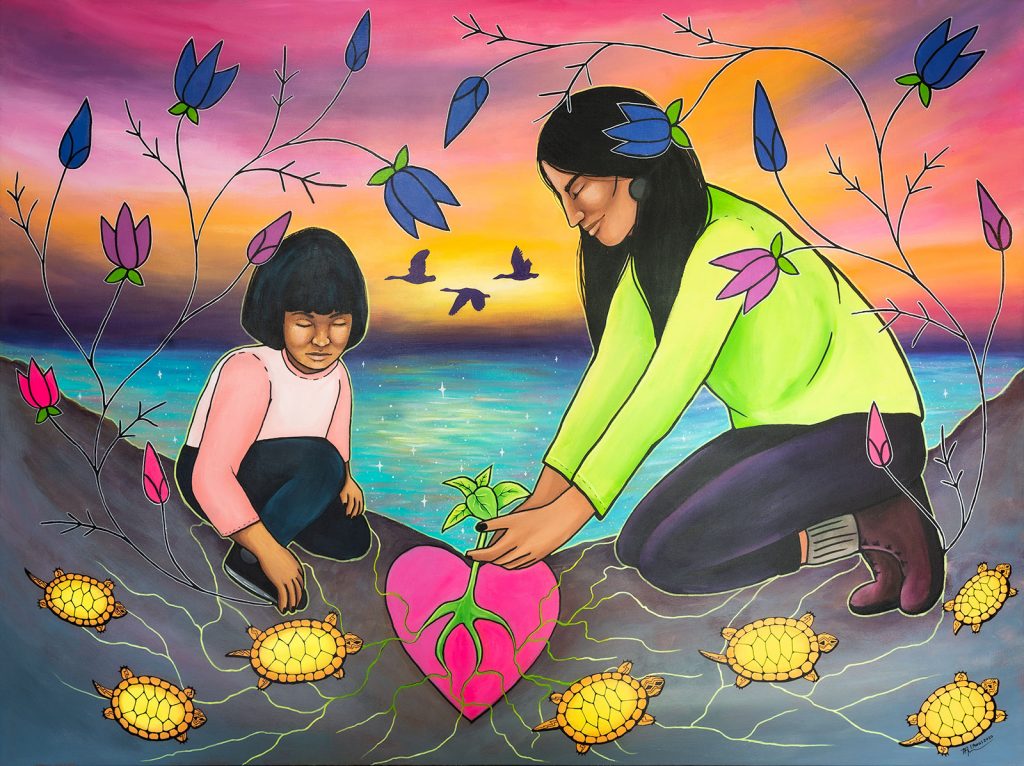 LAND BACK > LAND ACKNOWLEDGEMENT
Inspiration comes from everywhere
For me, it's stories, memory and intergenerational healing
Individually and collectively
This painting is birthed from a memory of cultivating a garden on the land with my family.
Live from the heart with a good mind
Walk on the land with love and respect alongside all Nations, relations and kin
Harvest only what you need
My art is my voice, my truth
An extension of who I am
Does it connect with you?
Does it inspire thoughts and feelings?
Does it ignite questions, curiosity, reflection, self love and truth?
I hope so
Our Stories Our Truths (OSOT) is a program started through my major project at TATI where Indigenous youth connect with mentors in the community with an art and land-based focus. OSOT is connected to this vision of healing and transformation. We want all Indigenous youth and children to have access to teachings, medicines, ceremonies, stories, clean water, belonging, safety, love, protection, truth, support and kindness.
With all of these seeds planted, we give thanks every morning before anything else – acknowledging all of Creation that surrounds us and is within us.
It cannot be ignored as it truly sustains us.
A land acknowledgment is a seed of the truth.
– Mo Thunder www.mo-thunder.com @mo_thunder –
---
The Toronto Art Therapy Institute is located in an area known as Tkaronto. A Mohawk word meaning, the place in the water where the trees are standing.
It has been the traditional land of many nations, including the Mississaugas of the Credit, the Anishnaabe, the Huron-Wendat, the Haudenosaunee, the Chippewa, and the Métis, and it continues to be home and gathering place to many Indigenous peoples.
The location on which TATI is situated is covered by the Dish With One Spoon Wampum Belt Covenant. It is a treaty between the Anishinaabe, Mississaugas and Haudenosaunee that bound them to share the territory and protect the land.
Subsequent Indigenous Nations and peoples, Europeans and all newcomers, have been invited into this treaty in collectively caring for the land and sharing its gifts in the spirit of peace, friendship and respect.
We invite you to join us in extending our deep gratitude to TATI community member, Monique Aura Bedard, in sharing the gift of their artwork and poetry,
Land Back > Land Acknowledgement.
take a moment
pause
take a moment
to land
How are we inspired to take action, as settlers, immigrants, refugees, uninvited guests, Indigenous peoples, as we are continually nurtured and sustained by this land?
What do we wish to cultivate, so that we can take responsibility individually and collectively, as a community of art therapists?
What actions can we take in our journey everyday to resist the effects of colonization in working towards its dismantlement?
We invite your responses through reflexive dialogues and creative processes.
take a moment
pause
take a moment
to create